Sportsmanship is alive and well
We received this note: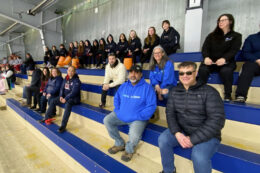 "I am a parent from the U16B NW Velocity team. We are in Westlock for provincials and we just finished playing our crossover game vs Edmonton Evolution. I wanted to share a picture of the type of sportsmanship that represents this sport.
The BV Ballistic parents and players sat with our parents for today's game to cheer us on and show their support. They even pulled out their drums and cheers! Calgary supporting Calgary was heartwarming and I thought it was worth sharing."
Kudos to BV Ballistic for this display of Sportsmanship!